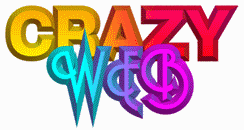 ---
Column for November 14 - November 30 by Jack Galounin

B O O! ... a little delayed.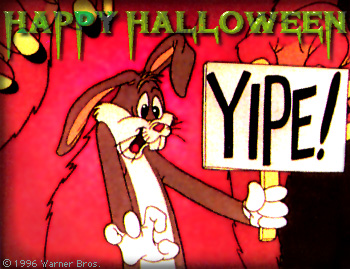 Image from Warner Bros WeB Cards.
---
Halloween celebrations in the city of Moscow
Hello to thee, or dear reader who still readeth this page. To be a bit less poetic, this Jackie here again, telling you that we still kick, somehow, tho we became somewhat busy to go on on a very-very-very regular basis. Let's say, we still can (and will) go on with CrazyWeb though. Because we enjoy it. Enough blabbering.
This time i'd like to tell you about some Halloween celebrations in the city of Moscow. Remember that 31st of October pumpkin festival? Sure you do remember, trick-o-treats, scavenger hunt and such. During perestroika times evoking interest in things american, we didn't forget about this one either. Since then on, Halloween became kinda popular here, and with each year it's being celebrated more and more widely. In fact, all the young and restless come together and mess with the pumpkins, if ya pardon my language. All kinds of people - from raving xtc-filled tekkno-parties to drinking bouts of bikers' clubs. Since i happen to co-president the Moscow Fan Club for the german heavy metal legend Helloween, who in turn happen to borrow much of their imagery from the festival, hence this festival being the pivotal bouncing day for fans around the globe, i'd rather tell ya all how we bounced the fest.
The meeting place was in the heart of the city, across from the world-wide famous Bolshoi Theatre (by which happens to be the infamous central gay cruising spot). Oh well, there is a huuuge avenue separating the place we met at and the Theatre. Anyway, we were accompanied by a rather gross monument to mr. Karl Marx, be he damned for eternity, and a surprisingly nice weather for 31st of October. You see, usually it rains, and gets very cold. After over 100 masqueraded and beer-happy metalheads turned up, we, lead by jack'o'lanterns, marched thru the main avenue of Moscow, singing songs by our fave band and basically haveing lots of fun. So we kept walking, and walking and walking, haveing adventures on the way like being molested by oh so rude local police, being shot for the TV news program, going past the infamous White House, while smoking pot on the way, BOOing a big bus for a while, and generally lots of bouncing.
(what the hell IS bouncing now? i don't know.)
Anyway, that was fun, and i do hope you folks celebrate this awesome fest as merrily. It marks celtic new year, btw. Have lotsa fun in the celtic new year, and get yr rears ready for MERRY X-MAS, OK?
Bouncy Jack.
See you again sometime in December. What it will be - who knows? Maybe a Christmas tale? We'll see.


And don't forget to send us fan mail.
---
A Vision Production
Copyright © 1995-96 ORBIS TERTIUS
All rights reserved. Redistribution and reproduction not permitted.
CrazyWEBtm is a trademark. All other trademarks remain property of their respective owners.


Say something: crazyweb@orbis-3.ru